Extra Virgin Olive Oil by Terra Dolce Farms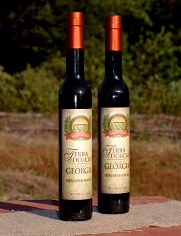 When British settlers arrived georgia during the early 1700s, they discovered olive trees at Spanish mission sites along the Georgia coastline. The popular fruit flourished for over 100 years as a local commodity until other produce took its place in the market.
Now the olive has returned as one of Georgia's emerging crops. The fertile soil and mild climate of southeast Georgia, known for producing excellent food crops, provide an ideal setting for a fresh, tasty olive oil. Terra Dolce (sweet earth) Farms is now proud to offer you this exceptional product.